Just Because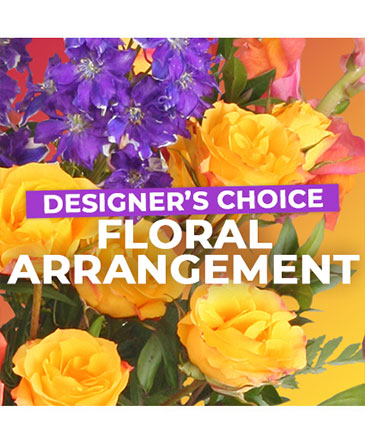 Custom Florals
Designer's Choice
Picking the perfect flowers for that special person can be tough. Let us make it easy on you by allowing our designers to create the perfect arrangement for any occasion! You don't have to be an expert to know that flowers are a gift that anyone will love, so you can't go wrong with our Designer's Choice!
Substitution Policy during Covid-19

At Ladybug Floral, we are committed to delivering your thoughtful sentiments on-time and as fresh and beautiful as possible. Because of the nature, seasonality, and regional availability of flowers it is sometimes necessary to make substitutions of equal or greater value. We will make every effort to maintain the "look and feel" of the arrangement by considering the overall shape, size, style, and color combination, as no two arrangements will ever be alike.
Due to the importance of delivering orders for special occasions, such as funerals, birthdays, and anniversaries, on specific days, we may make a substitution of equal or greater value to ensure timely delivery, if the flowers you requested are not available, and we are not able to contact you via the phone number(s) or email address you provided us, we will go ahead and make subsitutions as we see fit.
Every Day Delivery Policy

We do same day deliveries any time before 2pm
Unfortunately, we are unable to guarantee delivery at specific times, especially during holidays, but we are normally able to deliver within a few hours on all orders. You may request a specific time frame in the special instructions when ordering, and we will try our best to accommodate your request. Rush orders may have an additional charge.

We call all recipients and if no one is home, we will continue to call until we hear back from them. If we do not hear back before our 2pm cut-off, we will call you to make other arrangements with your order.

In most cases we will not leave fresh flowers, fruit baskets, or any gifts on doorsteps. Unless otherwise specified, as we are not responsible if product goes missing or left at incorrect address.
Payment for Online Orders
We only accept Visa and Mastercard for online payment. We do NOT accept Visa Debit. It will not work as payment through our terminal - you have to be physcially present in-store. If you do not have a credit card, we do accept e-transfer as an alternative payment. No refund policy.